Nowadays, a mere couple hundred dollars can bring you an excellent 3D machine to create small prototypes and spare parts. Imagine what a budget of 1000 dollars can get you!
You're no longer limited to starter machines for students and beginners. At this price range, the choices are more technology-intensive and allow the use of a broader range of materials.
To satisfy all parties, we've made a list of the best 3D printers under $1000 that can create a wide range of products, whether they're tiny figurines and cosplay items or working prototypes and metal machine parts.
Comparison Table
| | | | | |
| --- | --- | --- | --- | --- |
| Model | Price | Type | Layer resolution | Build volume |
| Qidi Tech X-Plus | CHECK PRICE | FDM | 50-400 micron | 270 x 200 x 200 mm |
| FlashForge Creator Pro | CHECK PRICE | FDM | 100-300 micron | 227 x 148 x 150 mm |
| Bibo Dual Extruder | CHECK PRICE | FDM | 50-300 micron | 214 x 186 x 160 mm |
| Creality CR-10 V2 | CHECK PRICE | FDM | 100-400 micron | 300 x 300 x 400 mm |
| Dremel Digilab 3D20 | CHECK PRICE | FDM | 100 micron | 230 x 150 x 140 mm |
The 5 Best 3D Printers Under $1000 in 2021
Out of dozens of options, these are the models that have found their way into our list thanks to their superb latest technologies and variety of applications. We've taken into consideration different skill levels and user's needs, so we're sure you're bound to find your next creative buddy here!
1. Qidi Tech X-Plus – Best Overall
CHECK PRICE
There is no better way to start than with an epic model that boasts numerous groundbreaking features without breaking the bank. X-Plus is an FDM printer that we can confidently call "everybody's printer."
With two filament compartments and interchangeable extruders, the model is suitable for all skill levels and supports all kinds of materials. To process different materials, the X-Plus features two extruders. The default one processes standard filaments like PLA and ABS, and PETG, while the other has a maximum temperature of 300 °C, allowing it to handle more delicate materials like nylon, PC, and carbon fiber.
The two separate holders make it easier to manage projects that use different materials without stopping the machine. You already have two filament compartments filled with different spools. All you have to do is move the existing holder and shift the needed holder to the inside of the chamber. The process can't be more straightforward!
This handy setup comes in an enclosed aluminum frame that can take a beating. The enclosed system allows for better temperature regulation and makes the entire machine safer and quieter to be used in schools, homes, and workplaces. What's more, it comes fully assembled, so you only have to load the filaments, make a few adjustments, and let the fun begin.
It boasts a build size of 275 x 200 x 200 millimeters, which would be sufficient for most projects. The layer thickness can be anything between 50 and 400 microns, giving you the freedom to control how smooth your objects are. Moreover, it operates at a maximum speed of 100 millimeters/second, which means you'll get your prints sufficiently quick.
Overall, the machine is easy to use, allows for fast bed leveling with one button, and comes with a touch screen that shows an intuitive interface to suit all skill levels.
Pros:
Robust construction
Precise and accurate prints
Easy setup
Processes numerous materials
Dual extruder and two filament compartments
Fully assembled
Cons:
Sometimes the touch screen responds slowly
Bottom Line
X-Plus is a flawless semi-professional model that combines versatility, affordability, and practicality. With a plethora of innovative features, it's the best 3D printer for both skilled creators and those who are new to the 3D printing world.
2. FlashForge Creator Pro – Most Versatile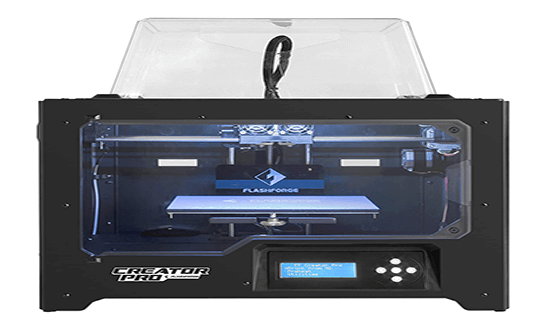 CHECK PRICE
While FlashForge isn't a well-known name in the field, Creator Pro has won multiple awards that it's impossible to ignore such a masterpiece in this price bracket. The FDM model boasts a build volume of 227 x 148 x 150 millimeters and a layer thickness of 100-300 microns.
However, what makes it stand out is compatible with every single material that can be used in a 3D printer. Not only that, but it allows for third-party filaments to lower your operations costs significantly. With PLA, ABS, FLEX, PETG, HIPS, composites, and many others included in the choices, you can pick any material and be creative with no limits.
Because it'd have been a shame to stop at this point, the printer comes with dual extruders and nozzles that move independently from each other. This means you can load the spools with different filaments or the same filament with different colors to create an object with two materials or two distinct colors.
The unit boasts a heated bed enclosed in a sturdy body that's engineered to produce fewer vibrations, enhancing the print quality and precision throughout the prints. Moreover, quick operation is guaranteed with a maximum speed of 100 millimeters/second.
Lastly, it's a plug-and-play model that comes fully assembled and is super easy to use. Being an open-source machine, it gives you the freedom to choose the software you're comfortable with. However, be aware that it comes with manual bed leveling, which can be tricky for inexperienced users.
Pros:
Works with all types of materials
Supports third party filaments
Dual extruders for colorful prints
Reliable performance
Comes fully assembled
Compatible with many softwares
Cons:
Loading filaments is a bit tricky
Can be noisy sometimes
Bottom Line
This is a printer to impress adventurous hobbyists who come up with new ideas daily and experiment with every material. It's affordable, versatile, easy to use, and works like a dream.
See also: Incredible 3d Printers Under 500
3. Bibo Dual Extruder – Best for Skilled Users
CHECK PRICE
At first glance, Bibo Dual Extruder looks like an ancient machine with a classic all-metal body and enclosed printing chamber. However, upon further inspection, this state of the art machine incorporates lots of bells and whistles to keep the interest of experienced users.
The highlight of these features is the epic speed of this model. It can accomplish up to 350 millimeters of the structure per second, which exceeds the speed of all the competitors within this price range.
Featuring the classic melt and reshape technology, this model takes 3D printing beyond simple beginner prototypes. With a removable glass bed and a layer resolution of 50-300 microns, it accepts various materials and produces smooth prints with a clean finish.
Like Creator Pro, this unit boasts a dual extruder that allows for printing objects in more than one color. It also has a copy printing feature that enables you to print two structures simultaneously, reducing the overall operating time and allowing for mass-printing.
For users who don't like sticking to their machines, the printer has WiFi features so that you can control your prints remotely from your smartphone or laptop. There's also a resume power function in the case of power outages and a filament detector that automatically pauses the machine when the spool runs out so that you can load a new filament.
A bonus point that makes this model a gem for innovative creators is the laser engraving feature. It enables you to further expand your creative work by engraving on wood and cardboard. All these features are made better with its full-color touchscreen and intuitive interface.
For a printer with such capabilities, a build volume of 241 x 186 x 160 millimeters is somewhat restrictive, yet it's not a significant compromise. Nevertheless, we wouldn't recommend it for beginners as it needs experienced hands to set it up, load filaments, and adjust the bed level manually.
Pros:
Lightning-fast operation
Handles multi-material prints
Filament runout detector
Resume power function
Laser-engraving feature
Processes different materials
Cons:
Not suitable for beginners
Build volume could have been bigger
Bottom Line
This is a super-fast printer that prints in colors, with multiple materials and offers an additional laser-engraving feature. If the sky is your limit, then we think this model will be your best tool to explore a world of new possibilities.
4. Creality CR-10 V2 – Largest Build Volume
CHECK PRICE
Cr-10 V2 is an office-friendly printer with a large build volume for bigger architectural models, mockups for marketing studies, and design applications. With a build size of 300 x 300 x 400, this model gives you the opportunity to think big and do big.
However, the vast print bed isn't the only charm. Featuring a 100 to 400-micron nozzle, the unit handles details very well and produces flawless prints with consistently smooth surfaces. It accommodates many types of materials as well.
As with all FDM printers, higher speeds can have a negative effect on quality. That's why it offers an average speed of 30-60 millimeters/second to guarantee maximum quality. However, you still have the option to increase the speed to up to 180 millimeters/second.
The unit boasts an all-metal body with advanced add-on features like dual cooling fans, filament runout sensor, and resume power function so that you don't have to start from scratch in case of power failure.
Although there's an option for manual bed leveling, we should note that the model isn't the easiest to operate. However, it'd be a great choice if you're willing to take some time to understand the machine and master the process.
Moreover, Creality opens the door to some DIY improvements for enthusiasts to upgrade the machine, so you can consider it a good investment in the long term.
Pros:
Affordable
Huge print bed
Sturdy construction
Optional automatic bed leveling
Design accepts upgrades
Filament sensor
Resume power function
Silent operation
Cons:
Operation can be tricky for beginners
Not plug and play
Bottom Line
Cr-10 V2 is an ideal choice for professionals looking for large print beds for their big projects. It's a well-built model that offers high speed, top-class print quality, and lots of additional features at a very competitive price.
5. Dremel Digilab 3D20 – Best Educational 3D printer
CHECK PRICE
Dremel is known for its entry-level FDM printers that serve as educational models for beginners and good tutoring materials for teachers in schools. Aside from its friendly design and easy-to-use software, and simple features, it comes with an educational curriculum to further ease the learning process.
Straight out of the box, the unit comes pre-assembled and ready to plug and print. The included SD card contains some fun pre-loaded structures to begin experimenting immediately. All safety features included starting from the non-heated bed to the fully enclosed body, which keeps the kids' hands safe and away from the machine.
With a 100-micron nozzle and speed of 80-120 millimeters/second, high-quality prints are guaranteed. They become even more precise and smooth when you use a lower speed. Furthermore, the 230 x 150 x 140-millimeter build volume is more than enough for beginners and hobbyists who are starting to get the hang of the process.
Sadly, the unit accommodates PLA filaments only, and it seems that Dremel doesn't allow the use of third-party filaments. Although this can be limiting for advanced users, just PLA is sufficient as a starting material until you decide to get deeper into the game. So, it won't be an issue for novice users.
Overall, the machine is easy to operate, and although it'd have been better if it features automatic bed leveling, it's better for educational purposes to learn the machine's calibration using the detailed step-by-step instruction manual.
Pros:
Easy-to-use software
Pre-assembled
One-year warranty
High-quality prints
Extra safety features
Cons:
Can be limiting for skilled creators
Accommodates only Dremal's PLA filaments
Bottom Line
It's hard to beat Dremel's units when it comes to beginners' printers, and this unit is no exception. It's reliable, easy to use, affordable, and brings overall peace of mind thanks to its full safety features.
Read also: Good 3D Printers Under 200$
How to Pick a 3D Printer – Buying Guide
Looking for the best 3D printer is a daunting task because while there are particularly good options, are they the right ones for you? Before you part with your hard-earned cash, you need to make sure that the model can support your projects. And to do that, you need to know what to look for in a 3D printer.
Type
The first thing to start with is determining what type of printer is the best for your needs. 3D printers come in various kinds. At this price point, you'll mostly come across the FDM (Fused Deposition Modeling), DLP (Digital Light Processing), or SLS (Selective Laser Sintering).
FDM is the most popular and less expensive type. It works by melting a plastic filament and reforming it in the shape you desire. Being more affordable, many businesses use this technology as it produces high-quality products and has a variety of applications.
However, the problem is that plastic has a minimum thickness, which means some products may come out with rougher surfaces and visible layers.
On the other hand, DLP and SLS printers fall in the category of resin-based machines that use UV light instead of heat to harden a light-sensitive material called resin. Although they usually come at higher prices, they are more accurate and build objects with smoother edges.
Yet, generalizing isn't right here. Some of the FDM models on our list do catch up with the quality of resin-based printers.
Build volume
Build volume is the amount of space you have to build your projects. Keep in mind that having a printer with a build area larger than what you need can be a waste of money and energy. The larger the build area, the more expensive the machine will be, and the more time it'll take to complete a project.
Nevertheless, it should always be bigger than the largest object you're going to print. Small items like toys and jewelry don't require much space, but if you print furniture or architectural prototypes, don't settle for a build size less than 250 x 250 x 250 millimeters.
Layer thickness and Speed
These two factors are the main determinants of the prints' quality. The layer resolution is the minimum thickness of a layer produced by the printer.
Usually, the print is constructed in layers. The thinner the layers, the smoother the outcome, and the better the print quality. However, it'll take ages to finish one project since there will be more layers to produce. Hence, there'll always be a compromise, either the speed or the quality.
The best 3D printer is the one that comes with a wide range of speeds and resolutions and lets you control both features. This way, you'll be able to print your last-minute projects quickly and fine-tune other projects if you have more time.
Ease of Use
Before you pull the trigger, ask yourself honestly about your skill level and your potential for development. You don't want to spend a lot of money on a complicated machine that requires a high level of experience and let it end up as a piece of decoration in your room.
Many factors determine the printer's ease of use as the software, assembly, and bed leveling. If you're a beginner, opt for user-friendly software with an intuitive interface. It'll sure make the whole process easier. Fully-assembled machines with automatic bed-leveling are always better options if you don't have experience under your belt.
Decision Time
Now that we've reached the end of our recommendation list, we think that X-Plus is by far the best 3D printer under $1000 currently on the market. With high-tech features, robust construction, and fantastic versatility, the unit is suitable for a broad scope of applications and satisfies the needs of both skilled and novice users.
If there are no limitations to your experiments, we suggest that you consider Creator Pro. Its dual extrusion system will keep you interested, and the fact that it accepts all types of materials make it the right candidate for creators with endless ideas.
Fascinated by science from an early age, Jason has always been drawn to learning and experiencing technology. From learning about light through his passion for photography, building out PCs, and printing 3D models life couldn't be better. When he isn't writing about all things 3D printing related he enjoys reading, watch soccer and enjoy with his family.