Imagine, design, print, and enjoy! That's how 3D printing goes. However, to reach the point of enjoyment, there's a steep learning curve that you have to tackle at first.
Thankfully, not all companies focus on professionals and skilled tinkerers. There are some 3D printers on the market that help make the learning process much easier and more fun all the way.
In this article, we gathered the best 3D printers for beginners, compared them, and gave our honest opinion on each of them to help you find the right one for you. Ready to meet your gate to the world of creativity and creation? Climb on, hold tight, and continue reading for more in-depth reviews.
Comparison Table
| | | | |
| --- | --- | --- | --- |
| Model | Build volume | Layer resolution | Maximum speed |
| QIDI Tech X-one 2 | 140 x 140 x 140 mm | 50-400 microns | 150 mm/s |
| Monoprice Voxel | 150 x 150 x 150 mm | 50-400 microns | 100 mm/s |
| FlashForge Adventurer 3 | 150 x 150 x 150 mm | 100-400 microns | 100 mm/s |
| Dremel Digilab 3D20 | 230 x 150 x 140 mm | 100 microns | 100 m/s |
| Monoprice Select Mini V2 | 120 x 120 x 120 mm | 100-300 microns | 55 mm/s |
The 5 Best 3D Printers for Beginners in 2021
Since we've been in your shoes before, we know exactly which models will grab your attention and make you start a lifelong passion for 3D printing. Here are our top five choices for the rookie creators out there.
1. QIDI Tech X-one 2 – Best Overall
X-One 2 is a safe and reliable 3D printer that's designed to make you accustomed to the hobby in no time.
Besides the friendly and colorful design, the pre-assembled unit sports a semi-enclosed body, which serves as a suitable workspace for temperature-sensitive materials and protects the prints from dust and particles.
It guarantees a fair amount of versatility, supporting PLA, ABS, flexibles, PETG, PVP, and numerous third-party filaments, allowing you to get creative with different brands and materials.
The resolution can be anything from 50 to 400 microns, and the print quality is fantastic for the price, considering the fact that it costs half the price of its head-to-head competitors. On top of that, it can get your quick jobs done in a heartbeat thanks to its print speed that goes beyond 150 millimeters/second.
The 140 x 140 x 140-millimeter heated bed isn't the biggest print volume out there, yet it's suitable for beginners who will most probably be printing small miniatures and home decorations until they get the hang of the process.
Since controlling the functions can be tricky for beginners, it comes with a responsive 3.5-inch touchscreen that's easy to navigate and shows the parameters clearly so that you can follow up on your work. Moreover, the included slicer is a breeze to use, and for those who are used to specific software, the open-source unit allows them to use any slicer program.
If we're being picky, we'd wish that the unit integrated automatic bed leveling. However, even the manual calibration won't be an issue thanks to the adequately explained manual together with the big bed screws that are easy to handle and adjust.
Pros:
Requires minimal setup
Safe working environment
Stellar print quality
Supports many filaments
Intuitive touchscreen
Affordable
Cons:
Bed adhesion issues with larger prints
Manual bed leveling
Bottom Line
X-one 2 has made it hard for its competitors with its smart design and versatility. It's quick, accurate, easy to use, and above all, comes at a price that doesn't cost an arm and a leg.
2. Monoprice Voxel – Easiest to Use
Voxel is the type of printer that'll keep you engaged from the moment it comes out of the box. This plug-and-play model takes less than 10 minutes before it's ready to print your first project. All you have to do is load the filament, choose a model, plug it, and let it do the magic.
Apart from being pre-assembled, this solid performer comes with a set of user-friendly features that makes printing your first 3D object a piece of cake. First of all, it supports automatic calibration, which spares you the pain of leveling the bed manually. The whole frame is enclosed for extra safety, and the touchscreen on the front allows you to control the settings.
Since loading the filaments can be a hassle if you don't have experience under your belt, the unit supports auto-feeding. Just put the filament spool in its holder and let the printer feed it into the printhead automatically.
The heated print bed is removable and flexible, which means you can slide it out to access your items and bend it to dislodge your prints without the use of any tools. It measures 150 x150 x150 millimeters, which is sufficient space for novice creators. Moreover, it allows for the usage of ABS and PETG, besides PLA, thanks to its fast heating system.
The unit works at a speed of 100 millimeters/second without affecting the quality, and you can adjust the resolution so that the accomplished projects come out with layer heights that range from 50-400 microns.
Finally, to add more fun to the process, the model works with Polar Cloud, enabling you to manage your prints from a distance.
Pros:
Automatic bed leveling
Quick heating and operation
Straightforward usage
Hassle-free print removal
Great bed adhesion
Cons:
Bottom Line
In short, Voxel solves lots of problems that beginners face, like dislodging models, loading filament, leveling the bed, and replacing nozzles. It's one of the most user-friendly models in the market and a reliable option if you're shopping on a budget.
3. FlashForge Adventurer 3 – Most Fun to Use
For beginner designers and hobbyists looking for fun in the journey, get ready to meet one of the most enjoyable 3D printers out there. Featuring a built-in HD camera and seamless WiFi connection, the Adventurer 3 allows you to remotely watch your prints in action, take pictures of your work, and share your progress with friends on social media.
Apart from that, you can follow up on your work through the printer's front clear panel and control your jobs using the 2.8-inch touchscreen.
The pre-assembled unit brings a 150 x 150 x 150-millimeter heated bed on board and boasts a layer resolution that ranges from 100-400 microns. Like Voxel, the heated plate is removable and flexible to allow for hassle-free dislodging.
What's more, it features automatic bed leveling, a filament detector that pauses your work in progress if the filaments run out, and a capable slicer that's suitable for beginners and skilled users.
The model accepts many materials, including PLA, ABS, wood, and gradient color filaments. As for the print quality, the objects come out with high accuracy and show smooth surfaces without a hint of ghosting or stringing. What's even better is its ability to finish works at a speed of 100 millimeters/second without messing with the quality.
Pros:
Incredible precision
Onboard HD camera
Automatic calibration
Seamless WiFi connection
Intuitive touchscreen
Easy-to-use slicer
Cons:
Requires a few tweaks to work properly
Bottom Line
Overall you can't beat the quality for the price! If you want an entry- to a mid-level printer that's a joy to use for beginners and a limitless creator for future skilled users, this model will make your day!
4. Dremel Digilab 3D20 – Best for Schools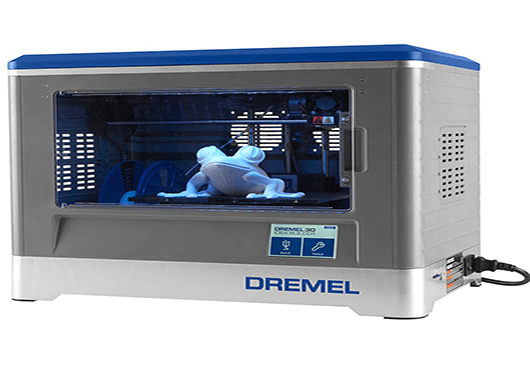 If a trusted brand is what's in your mind, then you've come to the right place! Digilab 3D20 will cost you a bit more than the other options, but in return, you get a reliable printer that's suitable for educational institutions.
The model comes pre-assembled so that you can start working immediately without the headache of putting the parts together. Like Voxel, it boasts a fully enclosed frame to ensure maximum safety and keep the curious hands of kids and students away from the print bed.
Although it lacks auto-calibration, it's super easy to use and comes with a manual that explains every step in a clear and practical way. What's more, it offers a teaching curriculum and learning plans for teachers to help them explain the process for their students.
As for the technical specs, it features a 120 x 150 x 140-millimeter print bed and a 100-micron nozzle that's capable of printing high-quality objects with no visible seams or layer separation. It also works at a maximum speed of 100 millimeters/second, which is pretty fast compared to many other models.
Unfortunately, the unit supports the company's proprietary PLA only, which means that those who like to try with different materials will feel boxed. However, it serves the machine's purpose since PLA is the filament of choice for most beginners.
Pros:
Sturdy construction
Well-explained manual
Teaching instructions
Sufficiently large build volume
Flawless print quality
One-year warranty
Cons:
Supports PLA only
Doesn't accept third-party filaments
Bottom Line
The Digilab 3D20 is the safest and most reliable 3D printer for schools, universities, and home use. Although it's the priciest option on our list, it's built to last and can handle heavy use in educational environments.
5. Monoprice Select Mini V2 – Budget Choice
Not all of us are ready to pay our hard-earned cash without knowing for sure we're going to love 3D printing! If this is your case, the Select Mini V2 is the best printer for you. At a very low price, you get frustration-free operation, sturdy steel construction, a nice colorful display as well as great plug-and-play capabilities.
Like its name, this model has a mini printing bed that measures 120 x 120 x 120 millimeters only. Yet, the small print volume is compensated by the improved heating system, which boosts print adhesion and reduces warping. Moreover, it features a pre-installed BuildTak mat, which promotes print adhesion and eases object removal.
Unlike its cheap price tag, the Select Mini V2 prints like a $1000 3D printer. It supports ABS, PLA, wood, copper fill, as well as steel fill, and prints with a resolution that ranges from 100-300 microns. The maximum speed doesn't exceed the 55 millimeters/second limit, which isn't mind-blowing, yet it's impressive for a low-priced entry-level printer.
Although it features manual bed leveling, it's super straightforward to use, and fine-tuning the print bed has never been easier. On top of that, it's designed to work with any software you're comfortable with.
Pros:
Budget-friendly
Decent print quality
Supports numerous filament types
Improved print adhesion
Solid construction
Cons:
Small print bed
A bit noisy
Bottom Line
If a cheaper route is what's on your mind, the Select Mini V2 is a feature-filled and well-designed machine that comes at a very competitive price.
How to Pick a 3D Printer for Beginners?
It's a big deal to shell out a lot of cash on something you're not so familiar with, and that's why you should know what to look for in your first 3D printer. Here's a quick guide to walk you through the process without delving much into the technical stuff.
Filaments
PLA is usually where people start since it's easy to use and doesn't require a heated bed. A 3D printer that accepts PLA only is a good option for beginners and students since this is the filament on which they're mostly going to learn.
However, the more materials the printer can handle, the more space you'll have to get creative in the future. Hence, look for models that at least support ABS and PETG as well.
Check also: 3D printers Under $500
Print Volume
The print volume (also referred to as the build area) is the area where you're allowed to get creative. It determines the size of the biggest object you can print. Just bear in mind that this feature corresponds directly to the whole kit's price.
To determine which size is the best for you, think about the type of objects you'll be printing. If what you have in mind are small miniatures and toys, then a big print bed will be overkill. However, cosplayers and architects will definitely benefit from bigger print volumes.
Print Quality
Every printer has its level of accuracy. However, the print quality is usually determined by the layer resolution, which is a measurement that determines the thickness of each layer.
Usually, machines run with layer thicknesses that range from 10 to 300 microns. The thinner the layers, the smoother the created objects. Hence, opt for the lowest layer height you can get.
Assembly
A 3D printing kit is a good idea for those who like to explore and build machines, but it can be troublesome for those who have zero experience. That's why we recommend that you opt for pre-assembled units that come ready to work straight out of the box or semi-assembled ones that need minimal work to build.
Time to Get Creative
We know the thrill of buying your first 3D printer. It's all joy and fun until you find out the model you chose was so hard to deal with to the point that it leads you to drop the idea of learning 3D printing. Well, not on our watch!
We're sure any model from our list will make the steep learning slope less of an uphill battle. However, if we were to assign just one model as the best 3D printer for beginners, it'd be X-One 2.
Apart from being user-friendly and quick to set up, it's versatile enough never to limit your creative mind and would give you an excellent head start before you decide to upgrade to a more advanced model.
The Voxel is a worthy option if you're worried about the learning process since it's designed to make every step easier for beginners.
On the other hand, if you're looking for a reliable model to serve as an educational printer at the time being and an advanced performer after you gain some experience, look no further than the Adventurer 3.
Fascinated by science from an early age, Jason has always been drawn to learning and experiencing technology. From learning about light through his passion for photography, building out PCs, and printing 3D models life couldn't be better. When he isn't writing about all things 3D printing related he enjoys reading, watch soccer and enjoy with his family.